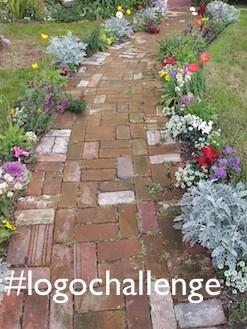 You guys, it's the LAST DAY.  I can't believe a) it's already over and b) I didn't die from too much Adobe Illustrator.  
Catch up here if you're new to the #logochallenge:
Meet the Client
Name: Carol Schwarzkopf
Work: I'm a dance educator/self-employed artist type. We live in Minnetonka and I've been teaching dance since the early 80s, mostly ballet, altho I came to MN to be a contemporina at MDT in the late 70s. I like to share what I've learned from my great teachers and share the joy of movement - most of my experience is still with kindergarten thru age 20. I'm starting anew at Platinum Dance Center in Edina which I think has unlimited possibilities. I'm studying to be a Mayo-certified Health and Wellness Coach, which I think is a natural confluence of the nutrition, kinesiology, pedagogy, yoga, ayurveda, dance, child development, meditation, brain geek stuff I've been into all of my life. I've always been a generalist altho now I realize dance has been my meal ticket for a long time. You can tell by my weak LinkedIn profile I am in transition so a logo would be a good focusing tool.  I'm excited to be part of your logo challenge and to see where this takes us.
Titles and descriptors: At this point I'm a dance educator & master teacher. Right now, I almost exclusively teach dance but I also write on topics of health and wellness for both the body and our environments. Is this what being an artist in this culture does to you, haha?? Crazy, right?  Thanks for making some sense of all of this.
Previous logo: None
Where do you want to use the logo: all/any
What three words do you want associated with you: movement, beauty, nurturing
What three words do you NOT want associated with you: cold, old, shallow
The Project
Carol has a really strong web presence, so it took me some time to dig through what she has out there. She is a dance educator but her writing about environment, health and wellness is a big part of her work. My research didn't turn up many similar logos--a lot of dance teachers basically use head shots instead of logos.  I found a few for companies and studios, which are on the
Pinterest page
. 
Typefaces were a little harder to figure out.  You can see on the Pinterest page that I was all over the map. I was drawn to some fairly complicated typefaces--things that reminded me of neurons, fascia, compass roses, and connections. Anything with a
ligature
(the little bit that connects two letters together) made me light up--another way of showing both movement and connection. 
The colors on Carol's website are all bright, rich jewel tones.  Green and orange  seemed particularly relevant. Green is associated with health, nature and healing.  Orange is bright, creative and attention-getting--and it's definitely not old. 
As I sketched I hit on a sunrise shape and immediately liked it.  The two names are so different in length that I was having a hard time arranging them in anything other than a line, but the half circle seemed to give it a nice shape. Sunrise also implies improvement, learning, enlightenment, inspiration--all of which are appropriate to teaching and writing. 
As I mentioned above, I tried a TON of typefaces with this one--some very ornate scripts, some plain handwriting, and some very strange illustrated ones.  Turns out Schwarzkopf is uncommon enough (and with some unusual letters next to each other) that the typeface used really needs to be legible. I really liked the exuberance and movement of
Pecita
but it simply wasn't legible enough.  Eventually I landed here: 

I liked the asymmetry of the layout and the color inversion, mostly because they are less expected than a centered logo.  The length off to the right implies a horizon, and the dark blue text below lends it some gravity.   I am not sure Carol's going to love the orange, but fortune favors the bold, right? 
I also decided to change the titles Carol suggested. I thought that dance educator/master teacher were too similar, and I wanted to incorporate all the writing Carol does.  That's the kind of decision I normally discuss with the client first, but...this is the #logochallenge! Decisions must be made! 
Thank you so much to all the participants (and all of you reading along at home).  I'm going to write up my reflections on Thursday, but the tl;dr version is that it's been awesome. 
p.s. My newsletter goes out this week.  
This
is what it looks like. It happens once a month and it's how you get involved in awesome stuff like the #logochallenge.